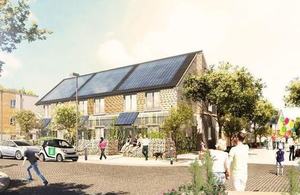 Government backed shared ownership affordable housing?.
With most political debate being dominated by Brexit, the big issue for 2018 for the District is finally putting to bed the Local Plan and making the difficult decisions on what is needed for Housing provision for the Future.
The National Economic imperative has been to try build up to 300,000 houses a year, but this doesn't square with local opinion and residents who have expressed anger at housing numbers being forced on local communities.
But when you take the time to break down the arguments, you get to two opposing views, Yes local residents want affordable housing provided for the younger generation to get on the housing ladder or rent at a reasonable rate, but residents don't want the type of estates with large four Bedroom executive houses for incomers being sucked in from higher priced areas causing local housing inflation.
I believe Arun will end up with 1200 houses per annum, I believe the leadership of Arun will pay dearly for losing control of the Local Plan process and I believe these houses will be the wrong type of housing.
Arun needs somehow even at this late stage to somehow intervene in the market to change this.
The reason many younger voters, and even voters up to the age of 40 are deserting the Conservative Party is because there isn't the buy-in to the Housing market and the abilityto get on the housing ladder.
My solution is a massive expansion of shared ownership where young people can partly buy and partly rent new properties, Also we need to build new towns built around railway lines and designed for the driverless car future that is fast approaching where people will not own cars anymore (Even in Rural areas) and will hail a Uber driverless car to take them to town or to the station.
Many older residents are forced to move closer to towns because they can no longer drive, this will be part of the brave new world fast approaching with Artificial intelligence going to change many aspects of our economic future, a thought for 2018 and beyond.
To next month