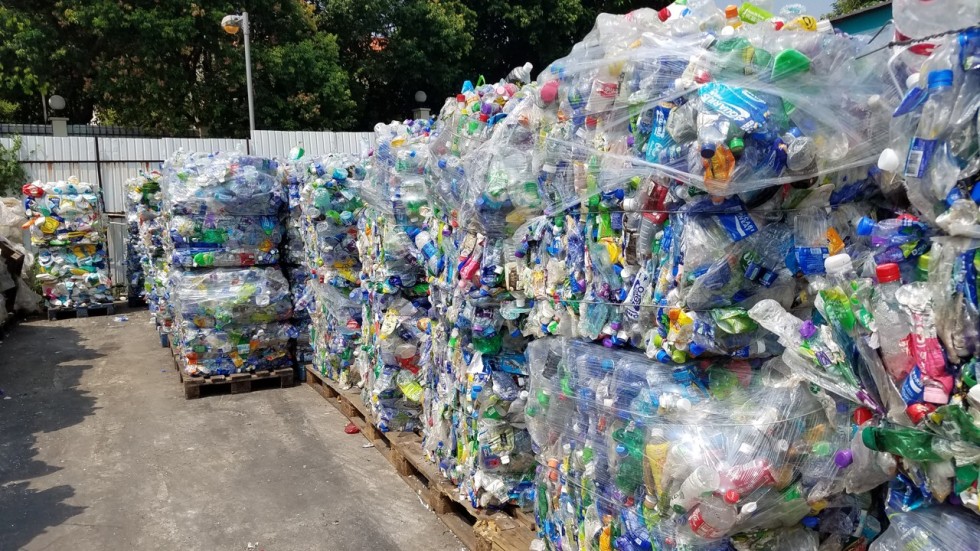 Chinese storage of unwanted plastic bottles.
With all the discussion in the media and the stories of Plastic piling up in China, I thought I would address what happens to your recycling in the Arun district,
What makes me angry when you have these stories of recycling being shipped off to the third world, it damages recycling rates and undermines the recycling message.
Aruns recycling rate has slipped from 41.5% to 40.5% as a direct result of these negative stories, It's hard enough to get people engaged in recycling, many school children learn from an early age regarding recycling and they encourage parents to follow the lead given by teachers and schools.
West Sussex as the waste authority takes the waste that the Districts collect, the recycling goes to the Ford Materials Recycling Facility where it is separated in to the various items, Ford is renowned for the level of quality of its items, eg the low level of contamination and on an annual basis Arun will receive as much as a Million pounds for its share of the recycling that is sold on to UK & EU manufacturers.
But it does not stop there, as well as Ford there is the mechanical recovery unit (MRU) which extracts items from the non recyclable bin, all the food waste goes to an anaerobic digester and powers the MRU as well as exporting power to the National grid, all plastic that couldn't be recycled is converted into plastic pellets for Energy from waste units (Incinerators) and again electricity is exported to the National grid, Metals are extracted by huge magnets and recycled . The driver for all this positive activity is the landfill tax, so councils have a real incentive to find alternatives and the economies of the MRU are underpinned by the Landfill tax.
The EU was to impose penalties for any Council that didn't achieve 50% recycling by 2020, of course Brexit has intervened , but the UK government may continue with the 50% target, so this is still a real possibility and it sensible to ensure that waste does not go to landfill.
One big problem is careless and thoughtless contamination, it only takes one dirty nappy to be deposited into recycling for a whole waste lorry load to be rejected and go directly to non recyclable waste, so challenging this type of behaviour is all in our interests.
Paul Dendle is Arundel & Walberton ward member on Arundel District Council. His website is pauldendle.org and email is cllr.paul.dendle@arun.gov.uk