Well, the 'anti-bypass' brigade have
achieved what we all feared - that is,
the prospect of a full double carriageway
through the centre of historic Arundel.
With the help of the SDPA (South Downs
National Park) Chairman Margaret Paren,
OBE and Emma Tristram's (Binsted)
judicial reviews, we have the devastating
threat of a full-blown dual carriageway.
I always thought the mythical purple route
was a Trojan horse for an online dual
carriageway when over 70% of the
population want an offline bypass.
Highways England (HE) have been less
than honest in putting forward the two
online options (Beige and Cyan) as the
government never asked them for
an
offline solution.
So my advice to everyone filling out the
consultation document is put neither when
asked to choose between Beige and Cyan.
Of the four other routes, the Grey route is
far too expensive,and more importantly,
goes too close to Walberton so this seems to
be an obvious route to reject out of hand.
The Crimson route (old Pink Blue) will
never get built as it contravenes the
government's own rules and the Secretary
of State would not able to choose this by law.
So that really just leaves two options:
Amber and Magenta. Looking closely at
these options, on balance, I would opt for
Magenta as it skirts the SDNP and only
sacrifices 3.51 hectares of ancient woodland
(remember HE have confirmed they would
plant new trees at a ratio of 8-1 for
woodland sacrificed) .
It is not ideal, but it's the least worst and if
we can get the junction at Ford Road that
only caters for south bound traffic to and
from Littlehampton to protect Yapton Lane
and Walberton, but also to create enclave
around Ford Road and surrounding streets
with no through traffic (ie. no junction to
the north to Arundel) then I think this
will get majority consensus across the area.
But the really important thing is that you
give your views and don't let the
malcontents stop the bypass.
Unfortunately, the Judicial reviews and
the new consultation has now pushed back
delivery of the bypass to 2026 (four year
delay) thanks to the Chairman of
the SDNPA, Margaret Paren, OBE who has
successfully avoided public meetings and
interviews (and is also unelected) and
worst of all does not think she is subject to
public scrutiny!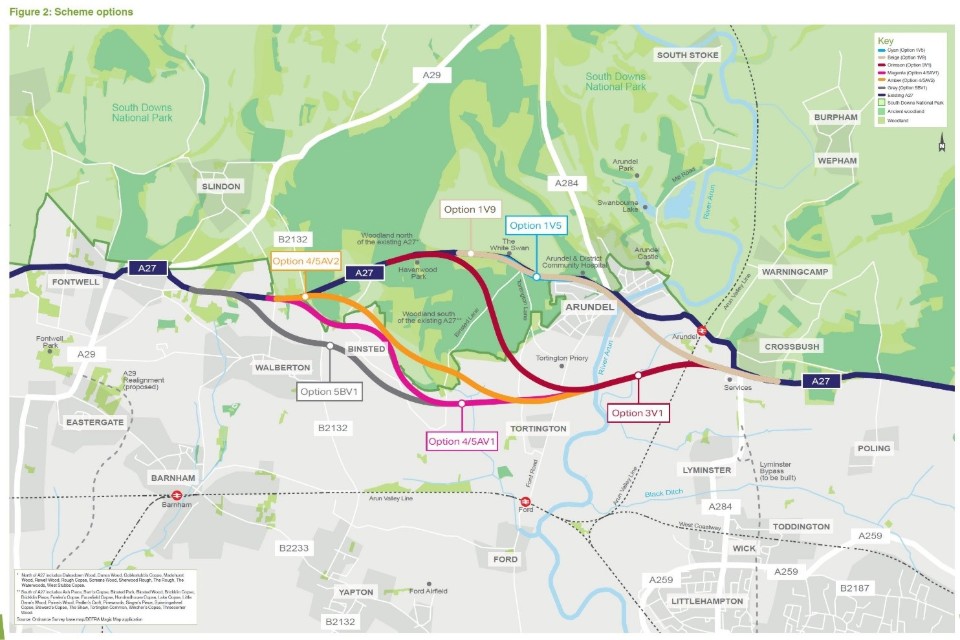 Route Options.